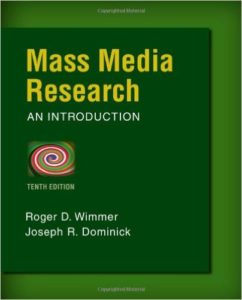 1. Mass media research : an introduction  by Roger D. Wimmer (Author), Joseph R. Dominick (Author)
Quality media is the result of meticulous research. MASS MEDIA RESEARCH: AN INTRODUCTION, 10e, shows you how it happens–from content analysis to surveys to experimental research–and then equips you with expert tips on analyzing the media you encounter in your daily life. Reflecting the latest developments from the field, this popular book delivers a comprehensive overview of mass communication research and a thorough exploration of each major approach–including qualitative research, content analysis, survey research, longitudinal research, and experimental research. It also fully integrates social media coverage, ethics, and the impact of merging technology.  Available with InfoTrac Student Collections                                                                    http://gocengage.com/infotrac.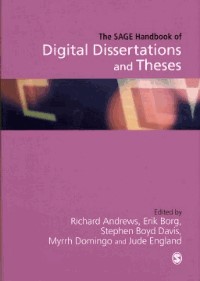 2.The Sage handbook of digital dissertations and theses edited by Richard Andrews … [et al.].
This handbook sets out the processes and products of 'digital' research. It is a theoretical and practical guide on how to undertake and navigate advanced research in the arts, humanities and social sciences.
Topics covered include:
– how to make research more accessible
– the use of search engines and other sources to determine the scope of work
– research training for students
– what will theses, dissertations and research reports look like in ten years' time?
– the storing and archiving of such research
– ethics and methodologies in the field
– intercultural issues
The editors focus on advances in arts and practice-based doctorates, and their application in other fields and disciplines. The contributions chart new territory for universities, research project directors, supervisors and research students regarding the nature and format of Masters and doctoral work, as well as research projects.
This handbook is an essential reference for researchers, supervisors and administrators on how to conduct and evaluate research projects in a digital and multimodal age.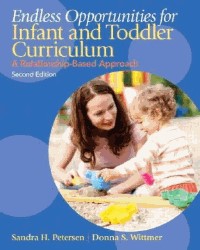 2.Endless opportunities for infant and toddler curriculum : a relationship-based approach by Sandra H. Petersen (Author), Donna S. Wittmer (Author)
This new edition helps parents, caregivers, and early interventionists prepare curriculum for our youngest learners. To encourage learning, the authors use a three-step approach – Respect, Reflect, and Relate. This book will help all those who care for infants and toddlers to translate their knowledge of child development into effective, individualized curriculum; it will not tell them what to do on Monday, but rather will help them to ask: "How will I make decisions on Monday that truly come from the child's interests?"  Through observation, they will choose a response that supports learning and the relationship and therefore achieve the primary goal of an infant/toddler care teacher- to support the parent-child relationship.